It is now possible to use Microsoft Teams to make and receive external phone calls. This brings Teams several steps closer to the Microsoft vision of creating Intelligent Communication. For users it means even more effective ways of working.
On June 28 we launched telephony to Microsoft Teams as one of the first operators in the world. This is long-awaited news among Microsoft Teams fans.
Why? Because telephony integrated to Teams truly makes Teams the all-you-need platform for communication and collaboration.
We are now looking for partners who want to offer the new Microsoft Teams telephony feature to their clients. It's a first mover opportunity to offer an easy-implementation product that provides recurring revenue.
Currently we are looking for win-win partnerships in the following countries; Sweden, Denmark, Finland, Norway, Germany, UK, Switzerland, Spain, Poland, Czech Republic and Lithuania. Read more below.
Collaboration and cost savings
The use of Microsoft Teams has grown massively over the past year, especially among project-based companies and organizations working in teams without physical constraints. They have discovered the power of using the Teams platform tools like chat channels, instant messaging and groups to enhance team collaboration.
Another explanation for the growth of Microsoft Teams is that it's part of Office 365. This enables users to manage their other work tools, like SharePoint, OneDrive and Power BI, all from the same place.
Integrating telephony to Teams is the icing on the cake. When you can make external calls from the same platform you avoid all switching costs between applications and even devices. No need to dig up your cell phone and open your contact book (even if you of course can use your mobile device if you prefer). Just click to call, directly from your computer screen, from your mobile app or via the app from any device.
Thus, productivity gain is one of the great benefits of integrating your telephony with Teams. Another is cost savings.
From Skype for Business to Teams telephony
The Cellip launch on June 28 means that customers in Sweden and ten other European countries can easily connect telephony to Teams. They get a single collaboration tool for all their communication, making other telephone solutions redundant.
Cellip is a Swedish company that has delivered telephony to Microsoft services for the past seven years. The company has twice been appointed Microsoft Voice partner of the year and fronted the development of Skype for Business telephony. Being able to provide telephony to Teams, via direct routing, was a natural step to take.
"Of course, I'm very proud that Cellip is one of the first Partners to Microsoft to launch services via Direct Routing, while it is natural given our leading position in Skype for Business Telephony", says Esko Airas, CEO of Cellip, and continues:
"I am even more proud that some of our customers already are up and running, using Microsoft Teams telephony".
Easy to get started
Telephony in Teams can co-exist with, and be the perfect complement to, a company's existing phone system. You also decide at user level whether Skype for Business or Teams is the primary way to communicate. Many companies choose to pilot the use of Teams telephony within a smaller group of users at department level.
"More and more customers approach us for help to get the most out of Skype for Business and Teams. Often, we conduct a workshop or the customer starts with a POC (proof-of-concept). This is another indicator of us being in the forefront of Office 365 telephony", says Peter Karlsson, Business Development Manager at Cellip.
For Microsoft 365 users it is easy to get started with telephony in Teams. The configuration is easily done in the Office 365 portal. Configuration of telephone switching functionality is easily managed in Cellips My Pages.
More about Microsoft Teams and telephony
Microsoft announced the news about Teams and telephony in a blog post on June 28. The article describes the two primary approaches to deploying Direct Routing. Direct Routing is now Generally Available!
These are the countries where we currently offer telephony to Microsoft Teams.
Are you our next partner?
The benefits from integrating IT and telephony are obvious. Thus we collaborate with IT companies that want to broaden their offer to their customers.
Are you interested in offering telephony solutions for Office 365 as part of your services? Find out more about our partner program by contacting esko.airas@cellip.se.
About Cellip
Cellip is the leader in Microsoft telephony services. Cellip is part of Infracom Group AB listed on the stock exchange.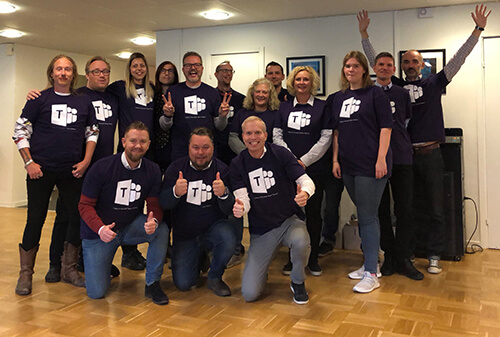 Om Cellip
Cellip hjälper kunder och partners att bli mer framgångsrika genom att tillhandahålla integrerade telefonilösningar till Microsoft Teams.
Hemsida: Cellip.com
Tele: +46 8 55 80 10 00
Partner till Microsoft